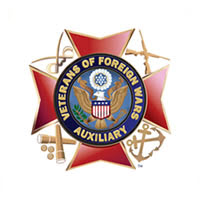 For more than 100 years, the VFW Auxiliary has been fulfilling its original objectives by supporting the Veterans of Foreign Wars, serving veterans, active-duty military and their families, and spreading patriotism nationwide.
Our members have volunteered millions of hours, donated millions of dollars, and honored hundreds of thousands of veterans. Volunteer with us and celebrate the freedoms we enjoy in America.
What do we do?
Below are just some of the things we've done:
Provided $5.1 million dollars in monetary aid to veterans, active duty military, and their families.

Spent $2.9 million dollars on hospital projects and items.
Volunteered more than 840,000 hours in VA Medical Centers, hospitals, nursing homes, and veterans homes.

Made more than 122,000 legislative contacts to help pass or block important bills affecting veterans and their families.

Awarded $55,961 in scholarships.

Worked with 10,032 youth across America.

Distributed 418,682 U.S. flags and 24,461 POW/MIA flags.

VFW Auxiliary Membership Eligibility

Members must be citizens of the United States or a United States National, and at least 16 years old.
Those eligible are:
Husband/Wife
Widower/Widow
Father/Mother
Grandfathers/Grandmothers
Sons/Daughters
Grandsons/Granddaughters
Brothers/Sisters
of persons who were or are eligible for membership in the Veterans of Foreign Wars of the United States.
Those eligible for membership in the VFW are those that have received a campaign medal for overseas service; have served 30 consecutive or 60 non-consecutive days in Korea; or have ever received hostile fire or imminent danger pay. Click here for more information.
Proof of service is required for eligibility and must be obtained by the applicant. Proof of eligibility is not required if you're joining the Auxiliary to a VFW Post where your veteran loved one is a member.
Membership in the VFW Post 8752 Auxiliary is only $25
a year.
Life memberships are also available at very reasonable prices. See the application form for rates.
To apply for membership call Auxiliary President Keith Nasby at 651-675-6986 or contact David Staehlin at 651-261-5802 or info@vfwpost8752.org and we'll send you an application form. Or obtain one
here
.
We look forward to you joining us!